Hacksaw Ridge
14A, 131 min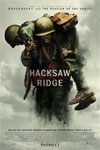 Watch Trailer
During WWII, American Desmond T. Doss (Andrew Garfield) was an Army medic who refused to bear arms. In Okinawa, during the bloodiest battle of WWll, Desmond somehow single-handedly evacuated 75 men from behind enemy lines without firing or even carrying a gun.
He was the only American soldier in WWII to fight on the front lines without a weapon, and also became the first Conscientious Objector in American history to be awarded the Congressional Medal of Honor. He was presented with the award by President Harry Truman.
In addition to the brutal Okinawa battle, Desmond demonstrated bravery, compassion and heroism during attacks in Guam and the Philippines.
Rogue One: A Star Wars Story 3D
STC, Action/Adventure, 133 min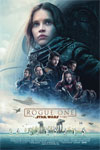 Jyn Erso (Felicity Jones) has never been one to follow rules. She's been on her own since the age of 15, surviving in the galactic underworld by cultivating skills in both fighting and cunning.
When Jyn is arrested by the Rebel Alliance, she is asked by Mon Mothma (Genevieve O'Reilly) to retrieve information about the Death Star - a nearly constructed weapon with the power to destroy an entire planet. If the Death Star's construction is completed, the Empire will become unstoppable.
It's up to Jyn, Cassian Andor (Diego Luna), Bodhi Rook (Riz Ahmed), and their pragmatic droid K-2SO (Alan Tudyk) to form the Rogue One squadron and help bring peace to the galaxy by stealing a technical readout of the Death Star. They eventually join forces with assassin Baze Malbus (Jiang Wen) and his spiritual partner Chirrut Imwe (Donnie Yen). They also meet Clone Wars veteran Saw Gerrera (Forest Whitaker).
They're up against some stiff competition. Orson Krennic (Ben Mendelsohn) is an Imperial military director who will stop at nothing to see the Death Star's completion. All while Darth Vader (James Earl Jones) maintains a watchful eye on the weapon.